With beautiful weather and kids on break from school, summer is a magical time for your residents. And throughout the summer, you should prioritize throwing plenty of summer resident events for your multifamily community. Not only will this foster a sense of community among your residents, but it will also increase resident retention.
That said, summer resident events don't have to break the bank or be overly complicated to organize. You can host most luxury apartment resident events in the common areas of your building. Sometimes, the simplest events can receive the most resident engagement. Read on to discover the best summer resident event ideas for your multifamily community.
Top eight ideas for fun summer resident events: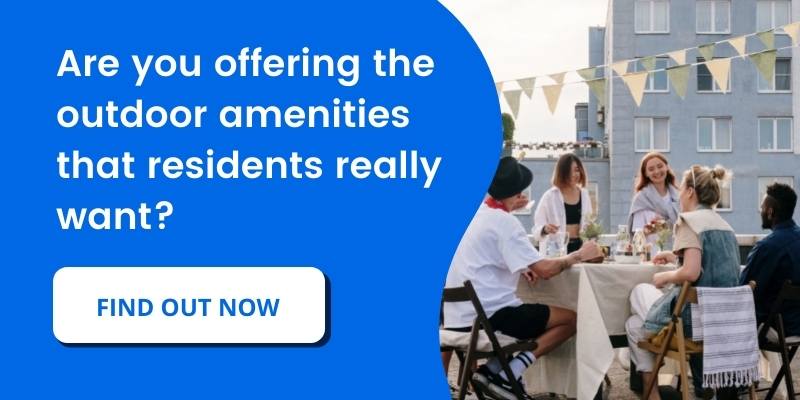 1. A good old-fashioned cookout
A BBQ cookout is a summer classic for a reason. It grants residents an opportunity to eat outdoors with fellow community members and only entails buying a few burgers, sides, and refreshments. BBQs can also come in handy for special events, specifically to kick off the start of summer. For example, June resident event ideas can include celebrating Father's Day and the summer solstice — the first day of summer.
But depending on the number of residents in your building, planning and prepping for the cookout might take some work. For instance, you can't feed 200 residents by using a single grill, so make sure to plan ahead. You might need to find volunteers through your apartment newsletter who can bring additional dishes and sides to the event. This can be a great opportunity for community members to come together and bond over their cooking.
Additionally, you should ensure the venue has enough space for everyone. So, consider having residents picnic on your building's lawn with blankets and towels. If your building's lawn isn't big enough for the cookout, consider having the event at a local park.
As another alternative, if you don't have enough staff members to do the grilling, hire local food trucks to cater the event.
2. Field day
Organizing a day of games for both kids and adults is a great way to spend a sunny summer afternoon. It can also be a great way for residents new to the building to get to know each other.
Field day games can include:
Potato sack races
Water balloon or egg toss
Three-legged races
Lawn darts
Relay races
Parachutes
Wheelbarrow races
You can host this event on a lawn at or near your property. Most importantly, don't forget to include fun prizes! Residents of all ages will enjoy candy or interesting knick-knacks — the ones you get from a gumball machine.
Pro tip: If your lawn is gated, make sure to install keypad access control devices to facilitate effortless and safe amenity access.
Watch how the ButterflyMX keypad works:
3. Outside fitness classes
Save your residents a trip to the gym by holding outdoor fitness classes at your property!
Such classes can range from yoga to dance, accommodating all levels. Yoga specifically provides numerous health benefits to your residents. It's also a relatively easy activity that people from all different fitness levels can enjoy.
You can hire instructors to come to your building or find instructional videos online. With a little upbeat music and creativity, you can gather a group of residents to enjoy a workout against a sunset backdrop.
And once the colder winter months approach, simply move these classes indoors to your gym or event space to keep the events going!
Remember: Be sure to end your fitness class with some refreshments, which could be as simple as homemade lemonade or more elaborate, like fruit smoothies.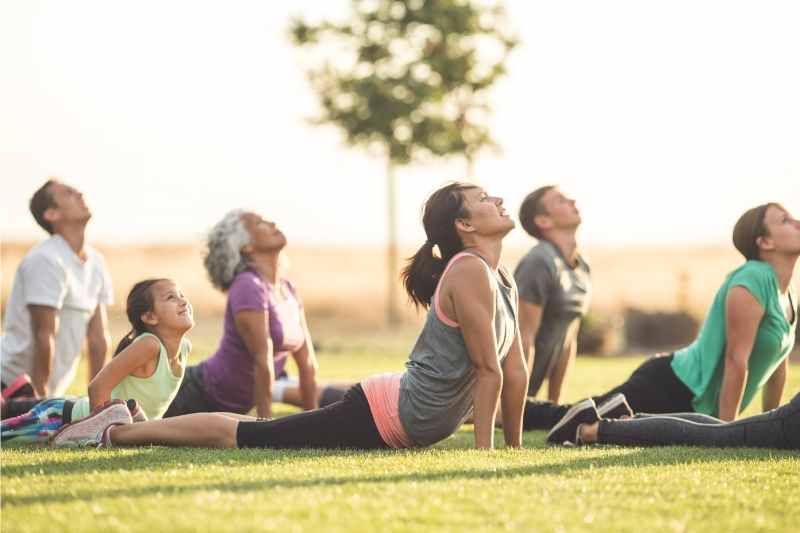 4. Outdoor movie marathon
Before chilly fall nights arrive, take advantage of warm summer evenings by screening an outdoor movie marathon. 
Now, before you go scrambling for extension cords and a big enough screen for dozens of people to watch from, consider a more creative solution.
You just need a projector to screen a movie on the side of your building or a large piece of canvas. Then, simply rent a couple of folding chairs to set up your own outdoor movie theater.
Spruce up your outdoor movie marathon by:
Renting a popcorn machine. Residents of all ages will love getting buttery popcorn while watching the movie.
Providing comfy headrests, pillows, and blankets for residents. Encourage residents to get cozy and comfortable. Even on the hottest summer days, it might get chilly at night, so don't forget those blankets!
Setting up surround sound. Put additional speakers around the perimeter of your seating area to ensure everyone can hear the movie.
Coordinate snacks to match the movie's theme. For example, if you're screening Jaws, it'd be fun to provide gummy shark candy. Go a step further and encourage the younger residents to dress up. And you can even see if there are any appropriately themed decorations for sale at your local party store to deck out the space with.
Also, keep your audience in mind: When hosting a movie marathon, start off with kid-friendly movies, and then as the night progresses, bring out the latest drama or horror flick that the adults will enjoy.
5. Ice cream party
Nothing says a luxury resident event quite like ice cream on a hot summer day. Providing free ice cream is surely one way to keep residents happy when temperatures outside are rising.
Make the party even more special by buying some unique ice cream flavors — and don't forget to include non-dairy and gluten-free options! What's more, make some games out of eating ice cream, such as having people sample flavors blindfolded and try to guess what they are. This can be a fun way to keep residents engaged even at a simple event.
Pro tip: A great and budget-friendly alternative is getting a local ice cream truck to cater the event.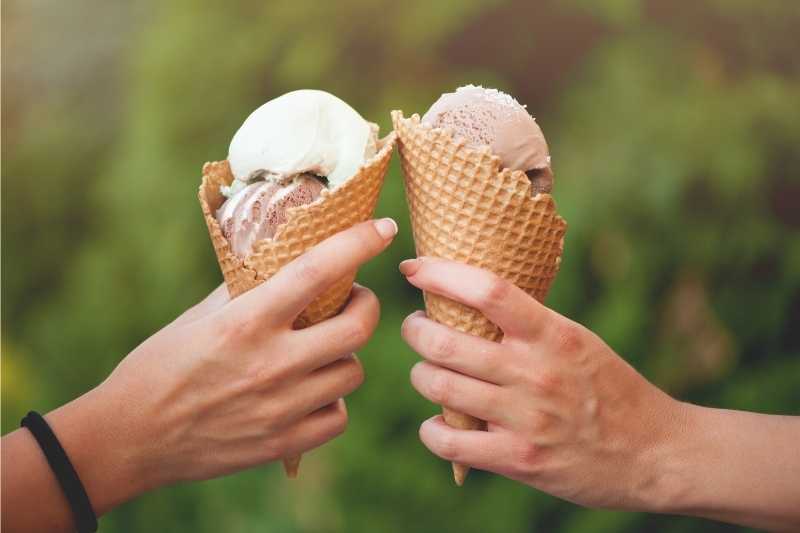 6. Local destination meet-up
Instead of having residents gather at your building for a summer event, encourage residents to meet up for an extracurricular activity off the premises. This can be an excellent community-building endeavor, especially with a small group of people.
Examples of good local destination activities:
Enjoying a trip to the beach
Hiking local trails
Exploring outdoor museums or sculpture gardens
Visiting local amusement parks
Bowling
Attending outdoor sporting events
Remember: Arrange carpooling or other forms of group transportation beforehand.
Discover the top 8 apartment amenities that residents want:
7. Pool or "water" party
If your property is fortunate enough to have a pool, then hosting a pool party is a no-brainer for a summer resident event. With a little music, games such as Marco Polo, fun pool floats, and some food and drinks, your party will be the biggest hit of the summer.
Now, if your property doesn't have a pool, don't worry. You can still get creative as long as you have access to running water and a garden hose.
Ideas for your "water party":
A slip and slide
Kiddy pools
Inflatable sprinklers
Water guns
Water balloon fights
Although your water party will be mostly kid-oriented, adults can still have fun socializing and eating snacks. Just remind residents to bring plenty of towels, or provide them. You don't want water dripping all over your building's floors when residents come back inside.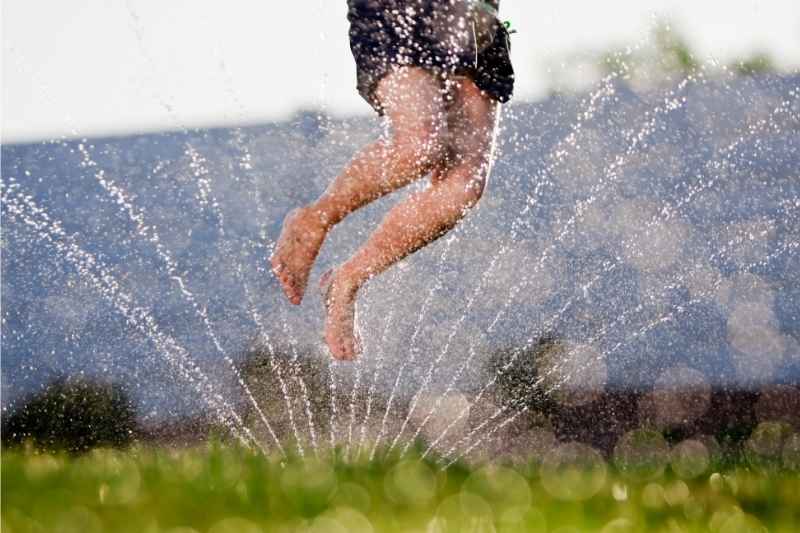 8. Fourth of July celebration
The Fourth of July is the ultimate summer holiday.
For your Independence Day celebration, you can combine many of the ideas on this list to throw a mega summer party. Depending on your local state laws, you could even set off fireworks at night. As an alternative (or in addition), supplying residents with sparklers is a great way to keep everyone in the spirit.
Also, there's no such thing as overdoing it when it comes to patriotic decor. Deck out your building and party space with all things red, white, and blue!
To keep your young residents entertained, organize plenty of games and activities and stock up on treats for your Fourth of July celebration.
Kid-friendly activities and accommodations include:
Bocce
Volleyball
Badminton
Cornhole
Bouncy houses
Horseshoes
Lemonade stand
Lots of deserts
Takeaways:
With a little creativity, summer resident events are easy and affordable to host and set up. And they're a great way to retain residents.
Recruit resident volunteers to help set up, participate, and contribute to your events. This is great for building community!
Keep both children and adults in mind for most activities, but don't be afraid to occasionally cater some events to one or the other.