In a services-led economy where knowledgeworkers are king, companies are changing the way their employees work in an effort to recruit and retain the best talent.
Many organizations no longer require their workers to come in every day. Some provide on-premise services such as dry cleaning, daycare centers, and fitness facilities. Partitioned offices have been replaced by open ones. As workplaces continue to evolve, commercial developers, owners, and managers have taken notice — repositioning their commercial assets to account for the evolving needs of current and future tenants.
It's now common to see commercial real estate professionals planning their assets around remote work, designing and building open office spaces, and providing infrastructure to accommodate thirdparty service vendors. This means that industry professionals must remain vigilant or risk facing new competition, lower price-per-square foot, and higher vacancies. It's no longer a simple discussion about price and location. It's now about providing an experience your tenants will pay and stay for.
This eBook is for those individuals who are responsible for facing these changes head-on and are seeking strategies and tactics for emerging with top-dollar, multi-year leases.
The commercial real estate sector is in the midst of a significant disruption that is being driven by tenant expectations. Modern tenants expect a workplace that allows for greater flexibility, enables third-party services, includes top-tier amenities, and provides the type of experiences that not only satisfy but also inspire a workforce that is always connected to the world around them. More than ever, tenants believe the workplace experience increases employee satisfaction, which increases the employer's ability to recruit and keep top-tier talent. Commercial property owners know that with satisfied tenants, they can expect increased tenant loyalty, higher occupancy rates, longer-term leases, and premium price-per-square foot pricing.
Landlords looking to boost the loyalty of tenants have begun rolling out apps that allow them to connect easily with a range of in-house or nearby amenities and services, everything from restaurants and gym classes to office climate controls.
When distilled to its essence, tenant experience closely follows the psychological theory that you probably first encountered in high school: Maslow's Hierarchy of Needs. This five-tier model defines what motivates human behavior. Each tier must be satisfied before moving to the next.
In order, they are:
Physiological
Safety
Belongingness
Esteem
Self-actualization
Building Engines, a property management software provider, cleverly modified Maslow's theory for the commercial real estate sector and created a three-tiered Hierarchy of Tenant Needs.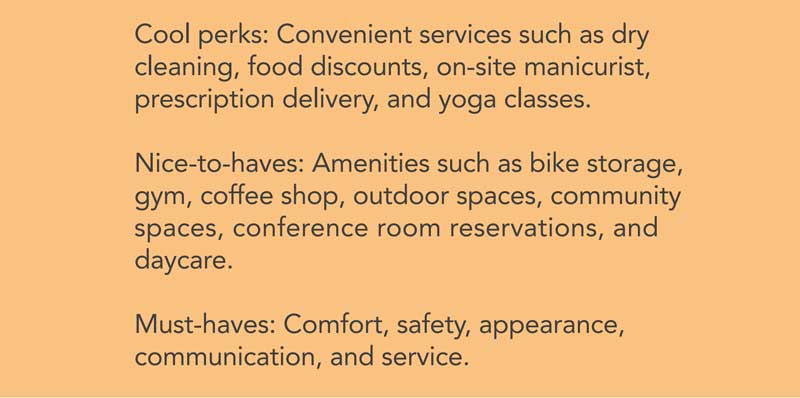 As with Maslow's theory, Building Engines' threetiered hierarchy is a progressive model that commercial real estate professionals must address so that they can deliver a tenant experience worthy of premium pricing, long-term leases, and high loyalty.
The foundation of this hierarchy is based on comfort, safety, and seamless communication. Without those basic elements, commercial properties have a difficult time leasing space and keeping current tenants. The middle tier – nice-to-have amenities – serves as differentiators. Depending on the market, however, they may be essential among properties in the same market.
These amenities ensure that commercial properties remain competitive with the market and the expectations of modern tenants. Finally, the top tier – cool perks, aka luxuries – are usually offered by commercial innovators and trendsetters. These spaces often lease for top dollar by prominent organizations and set the standard for what will soon trickle down to nice-to-haves in the near future.
Download this free ebook for learn more about creating the ulimate tenant experience and how to capture longterm, top-dollar leases.