Several factors are challenging commercial real estate developers, property managers, and owners to deliver greater tenant experiences.
None are particularly surprising and all generally reflect the evolution of peoples' and organizations' preferences over the past two decades. In general, organizations understand the need to provide their employees with convenience, security, and even luxury-type perks, and they now have the standing to demand more flexibility and services from their landlords.
Evolving work habits of millennials and remote workers, according to the
Bureau of Labor Statistics
, 22.7 percent of the full-time U.S. workforce performed at least some work remotely on an average day in 2018.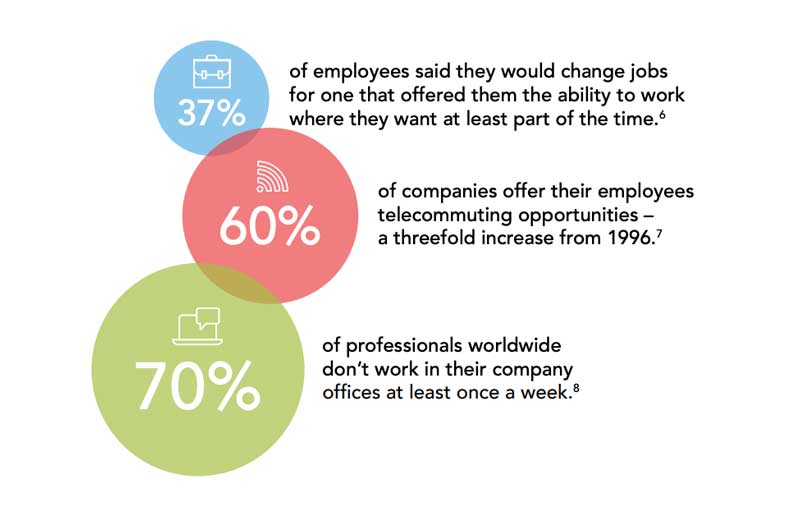 In 2012, Gallup data showed that 39 percent of employees worked remotely in some capacity, meaning they spent at least some of their time working in a location different from their coworkers. In 2016, that number grew … to 43 percent. But it's not just the percentage of employees working remotely that has increased.

 

Employees who work off-site are spending more of their time doing so. In 2012, 24 percent of remoteworking employees were spending 80 percent or more of their time working remotely. In 2016, 31 percent were doing the same. The number of employees working remotely 40 percent to 80 percent of the time has increased slightly as well, while the number of employees working remotely less than 20 percent of the time has decreased.
In other words, the more remote working options there are, the less need there is to go into an office – adding to the pressure for landlords to make their buildings and workspaces more attractive to their tenants.
Competition throughout the industry, including from the multifamily housing market.
Of particular concern to owners is the projected oversupply of office space, with commercial real estate construction nearing all-time highs between 2017 and 2018. Plus, when many traditional businesses such as law firms are consolidating what they're doing today, they are reducing their office space by as much as 20 percent.
Put another way, while more office jobs are being created, office occupancy has remained stagnant at best. And when supply significantly exceeds demand, it becomes increasingly challenging to attract and retain tenants – much less to sign organizations to traditional 10-year leases. This can already be seen in many large markets where firms, especially technology companies, are seeking shorter lease terms.
The rise of flexible third-party co-workspaces such as WeWork, Knotel, and Impact Hub is also increasing the pressure on commercial owners. These firms have done an excellent job positioning their spaces as flexible, inspiring, and highly amenitized by providing onsite gyms, daycare services, and even grocery shopping. In fact, the co-workspace sector has grown annually in New York by 22 percent since 2013, when the phenomenon in metropolitan cities began to take hold. Through 2017, Manhattan experienced a 42-percent decline in tenants leasing traditional office spaces under 5,000 square feet.
Traditionally, landlords have thrown companies into these concrete boxes, while they take a check every month until your 10-year lease is paid off.
Multifamily housing developers and property managers have also taken notice of macro trends occurring in the labor market.
It's now extremely common to see new builds include flashy workspaces in their lobbies or community areas where remote working residents have access to conference rooms, desks, printers, and other office supplies. Even existing residential properties are retrofitting these spaces into their buildings to add further value to prospective residents, whom they know will be working from home at some point while living in their buildings.
Download this free ebook for learn more about creating the ulimate tenant experience and how to capture longterm, top-dollar leases.