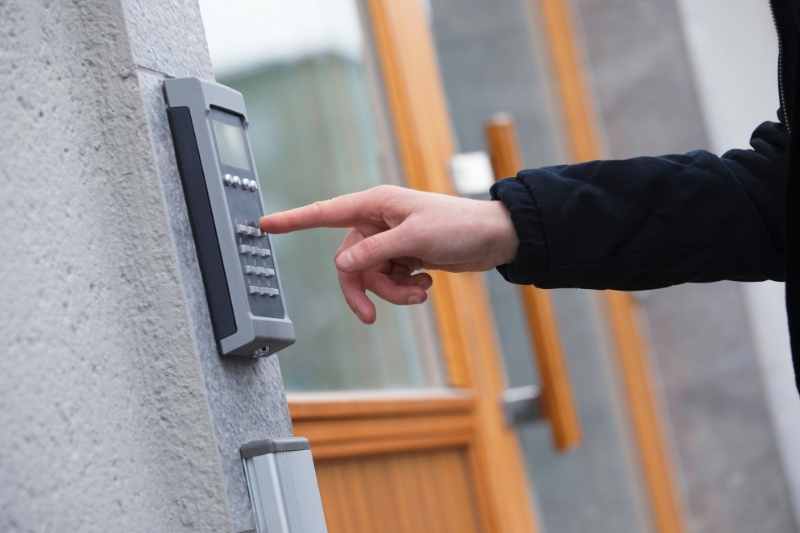 One of the most vital parts of running a successful building is providing safe and convenient property access. A popular option that property managers choose is a door entry phone.
Door entry phones are a type of telephone entry system that manages access at commercial and multifamily buildings. Continue reading to discover more about this system and how it works. We also offer an alternative property access solution that may better fit your building's needs.
This post covers:
What is a door entry phone system?
Door entry phones are electronic devices that enable communication and property access between tenants in a building and their visitors. Typically, door entry systems are connected to a telephone line and require in-unit devices inside each apartment or office suite. However, modern systems may work wirelessly via a cellular network instead of a POTS line.
Door phone entry systems empower tenants to communicate with visitors without being physically present at their front door, while still confirming who's at the door before letting them in. They're installed primarily in multifamily and commercial buildings.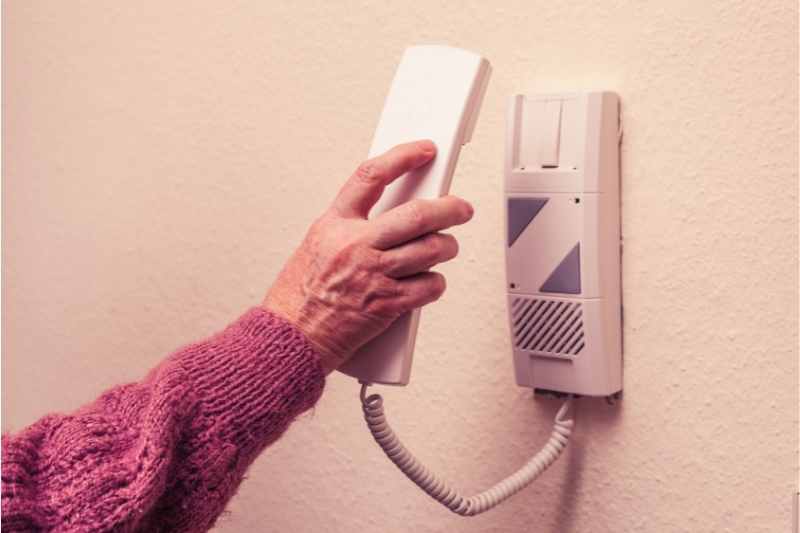 Where can you find door entry phones?
Door entry phones are typically marketed as door intercom systems for business and home. As a result, they're usually installed in multifamily and commercial buildings — making them fit for installation at many kinds of properties.
You might find this system installed at:
Dorms and student housing entrances
Mixed-use buildings that service commercial and residential tenants
Parking garage entrances
Gated communities
Assisted living and senior living communities
Watch how ButterflyMX works:
How does a door entry phone work?
A door entry system works by allowing visitors to call tenants or residents directly to request property access.
Here are the basic steps for using this system:
When a visitor arrives, they use the directory in the system to look up a tenant.
After they've identified the tenant they want to call, the door phone calls the tenant's number. If the resident is home, they pick up and chat with their visitor.
Next, the tenant presses a designated button — usually the number '9' on dial telephones. This tells the phone entry system to open the front door.
Finally, the entry phone system signals the door release mechanism to activate, unlocking the door for the visitor to enter.
What are the components of a door entry phone?
Similar to telephone entry systems, door entry phones operate through a telephone line. As a result, they require hardware installed at the property entrance and inside each unit within the building.
This hardware consists of:
A telephone line at the property entrance to connect to the base station
In-unit substations (typically telephones) in each unit for tenants to receive calls
A directory system for visitors to look up tenants
A door release system that unlocks the door when tenants grant access to visitors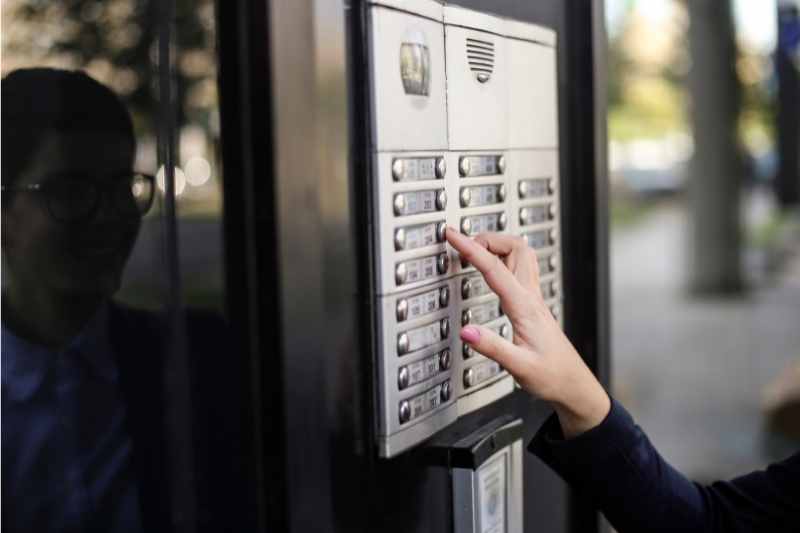 How much does a door entry phone system cost?
A door phone entry system costs anywhere from $1,000 to $7,000, not including installation fees.
The total amount you'll pay ultimately depends on the system's functionalities and features. For example, buildings with more tenants require more hardware to install. Further, adding more features to your door entry system — such as a video component — increases your final cost.
A better alternative to door entry phones
While door entry phone systems are relied upon by many properties, there are more robust property access solutions available.
At one point, phone door entry was one of the most convenient property access systems. This is because, throughout the 20th century, all homes and offices had landlines. However, as of June 2020, only 2.3% of American households solely have a landline phone. Instead, homes and businesses rely on cell phones for communication.
And because modern cell phones are capable of much more than just making calls, they've become an integral part of people's lives. So, why not involve smartphones in property access?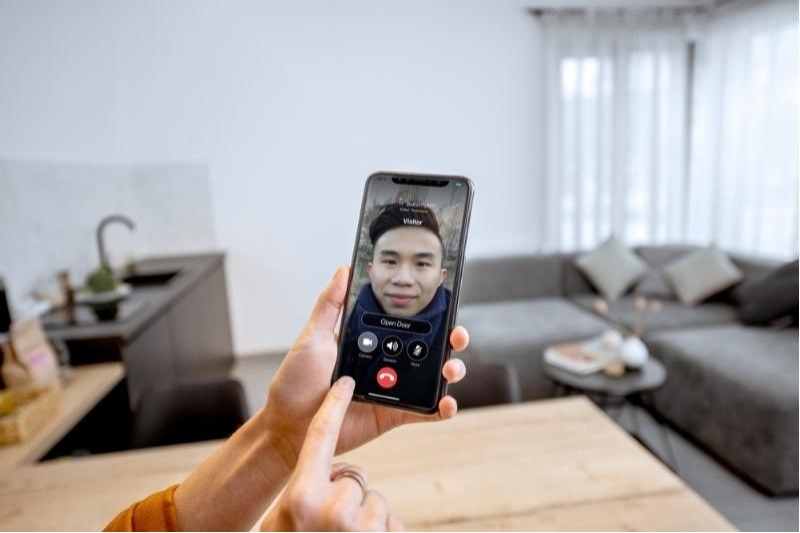 Choose a modern video intercom system
Instead of choosing an outdated door entry phone system, opt for a modern video intercom system like ButterflyMX as a replacement. In addition to ramping up security at your property, a smart video intercom system offers extra features that door phone systems cannot.
Some features that are unique to smart video intercoms:
Audit trails of all door entry events and store a date- and time-stamped photo of each entry in the cloud for added security.
Cloud-based software allows property staff to manage the system or update the tenant directory remotely from any device.
No in-unit hardware or extensive wiring means easier installation than ever. In fact, with only three wires, smart video intercoms save you money on installation and maintenance fees.
Smartphone-based access so that all your residents need to video chat with guests and grant property access is a smartphone!
Visitor access features like virtual keys, temporary keys, and delivery PINs for couriers which increase convenience for tenants and staff.
Takeaways
Door entry phone systems are a common property access solution for multifamily and commercial buildings.
With a door entry phone, visitors call tenants directly to request property access.
While this system adds a layer of security to your property, a more robust option is a video intercom system.
With a video intercom system, you can see an audit trail of all door activities, drastically enhancing security. You can also offer convenient visitor access features like virtual keys and delivery PINs.