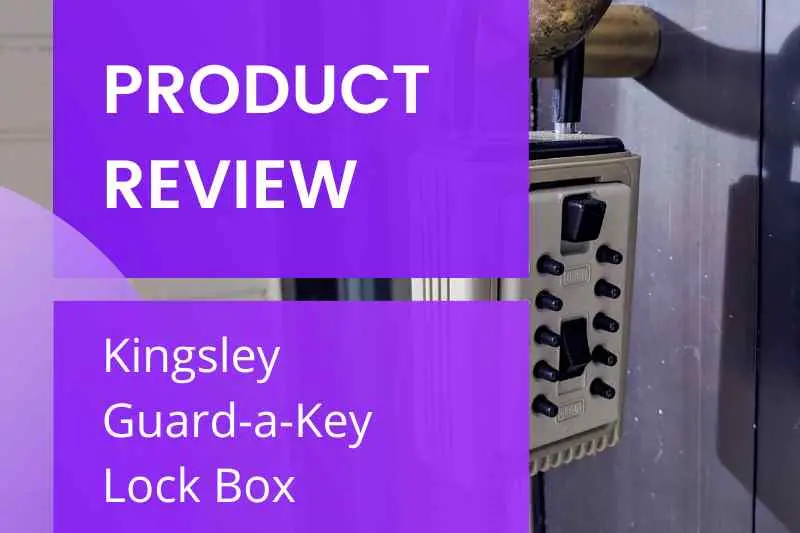 Key takeaways
Kingsley Locks is a key storage brand based in Phoenix, Arizona.
The Kingsley Guard-a-Key lock box is a sleek, lightweight single-key storage solution.
The Guard-a-Key key safe is weather-resistant, easy to install, and durable.
While the Kingsley key safe is a viable option, it lacks the advancements offered by solutions like key lockers.
The need for secure, reliable key storage solutions has never been more pressing. Whether it's for real estate agents, property managers, or homeowners, a robust key management system is indispensable. Traditionally, key lock boxes, such as the Kingsley Guard-a-Key lock box, have been a go-to solution. But does the Kingsley lock box truly offer the best solution for key storage and management at your property?
This post will dive into the details of the Kingsley lock box, including features and pricing. Then we'll see how it compares to an alternative solution like the ButterflyMX key locker.
This post covers:
About Kingsley Locks
Kingsley Locks is a renowned manufacturer of secure storage solutions based in Phoenix, Arizona.
While their Guard-a-Key lock boxes are one of the most popular products, Kingsley also offers:
Tubular cam locks
Key storage boxes
Combination lock boxes
Kingsley Locks states that their mission is "ensure our customers have state-of-the-art security products at the lowest prices possible."
Known for their robust construction, these lock boxes balance functionality and security — without breaking the bank.
About Kingsley Guard-a-Key lock box
The Kingsley Guard-a-Key Lock Box is a compact, durable key storage solution designed to withstand the elements. The Kingsley lockbox is celebrated for its simplicity, durability, and weather-resistant finish.
Its compact and lightweight design allows easy transportation and storage, making it ideal for use at multiple locations. The solid metal construction ensures reliability, with a vinyl-covered shackle to protect surfaces from scratches.
With its easy installation, weather-resistant finish, and sturdy metal construction, the Kingsley key safe is an excellent choice for various applications.
Features
Easy key lock box installation. Can be secured to any gate or fence using the lock's shackle.
Weather-resistant finish. Protects the lock box from rust, corrosion, and damage caused by exposure to the elements.
Durable construction. Made with solid metal, designed to provide reliable security.
Multiple applications. Ideal for real estate agents, property managers, dog walkers, vacation rentals, and homeowners.
10,000 possible combinations. A 4-digit combination code that can be changed as needed.
Kingsley lock box pricing
The Kingsley Guard-a-Key lock boxes come in a variety of models and prices to cater to different budgets.
Here are a few options:
Kingsley Guard-a-Key Black Realtor's Lockbox is an affordable and robust option, priced at $13.25.
Guard-a-Key Wall Mounted Lock Box provides a fixed location for your keys and is available for $16.95.
Kingsley QCH-807 Key Storage Box is water-resistant and competitively priced at $13.49.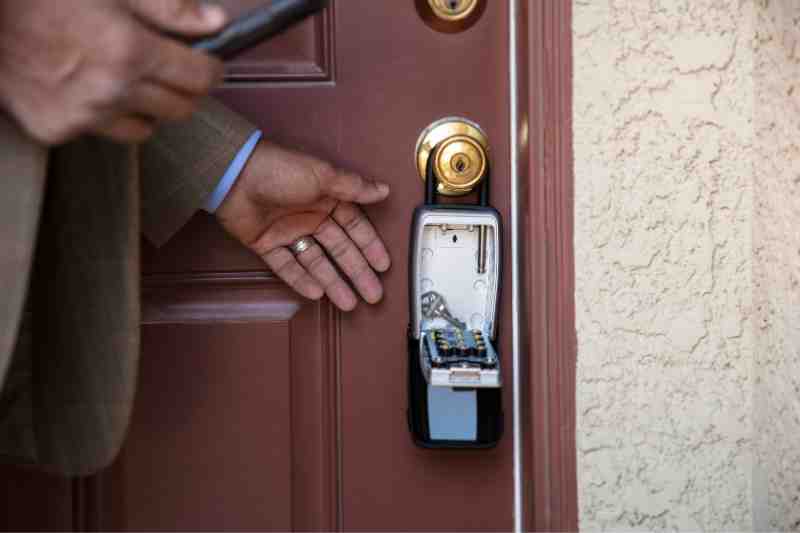 Pros & cons
Pros:
The Kingsley lock box has a solid metal construction with a weather-resistant finish, ensuring durability.
Easy installation with the ability to attach to most surfaces using the lock's shackle.
Ideal for many applications, from property managers facilitating self-guided tours and tenants granting access to guests.
It offers a 4-digit combination code that can be changed as often as desired. Up to 10,000 codes are possible.
Despite its sleek design, the Guard-a-Key can hold multiple keys, including bulky car keys.
Kingsley Locks offers excellent customer service, as attested by several users.
Cons:
Some larger keys may not fit in the lock box.
It is not waterproof, which could be an issue if used outdoors in areas of heavy rainfall.
Some users reported issues with the lockbox becoming jammed or not relocking.
Despite the weather-resistant finish, there have been cases of the product corroding when exposed to the weather over time.
The instructions provided with the lock box are seen as inadequate by some users, which may cause setup difficulties.
The proximity of the code wheels may cause them to stick together. This will require additional maintenance, like using a graphite powder.
Alternatives to Kingsley key lock box
While the Kingsley Guard-a-Key lock box offers a dependable and versatile key storage solution, it's prudent to explore other options on the market to ensure you're making the best possible choice.
Here are a few notable alternatives:
MasterLock 5400d Portable Box Lock. This weather-resistant lock box is ideally suited for outdoor use. The 5400d model conveniently hangs over a doorknob, ensuring visitors have no trouble locating it. One of its standout features is the option for personalization with laser engraving, allowing you to customize it to your specific needs.
Kidde AccessPoint KeySafe. Kidde's AccessPoint KeySafe incorporates several features designed to deter potential intruders. It boasts sloped sides that effectively discourage the use of crowbars and other prying tools. Unlike many key lock boxes that utilize key-based or wheel combination mechanisms, this model offers a unique combination dial for added security.
Comparison of Kingsley key lock box to ButterflyMX key locker
Key lock boxes, such as the Kingsley Guard-a-Key, have been a popular solution for managing keys due to their simplicity. But as technology advances, property managers are starting to look beyond traditional methods and towards more advanced solutions.
One such innovation is the introduction of key lockers. Key lockers are designed to provide even more convenience, security, and modern management compared to key lock boxes, making them a better choice for today's needs.
One standout in the realm of key lockers is the ButterflyMX key locker. It encapsulates all the advancements of a key locker, pushing the boundaries of what we can expect from key management systems.
Learn how to assign a ButterflyMX key locker compartment:
Kingsley key lock box vs. ButterflyMX key locker
The Kingsley Guard-a-Key lock box and the ButterflyMX key locker both offer secure solutions for key storage, but they differ in significant ways. While the Kingsley Guard-a-Key lock box is a more traditional key storage solution with a 4-digit combination lock, the ButterflyMX Key Locker offers more advanced features and stores dozens more keys.
| Feature | ButterflyMX key locker | Kingsley Guard-a-Key |
| --- | --- | --- |
| Built-in camera for added security | Yes | No |
| Accessible via smartphone or computer | Yes | No |
| Independent electronic locking mechanisms | Yes | No |
| Multiple compartments | Yes | No |
| Easy to install | Yes | Yes |
| Facilitates self-guided tours | Yes | Yes |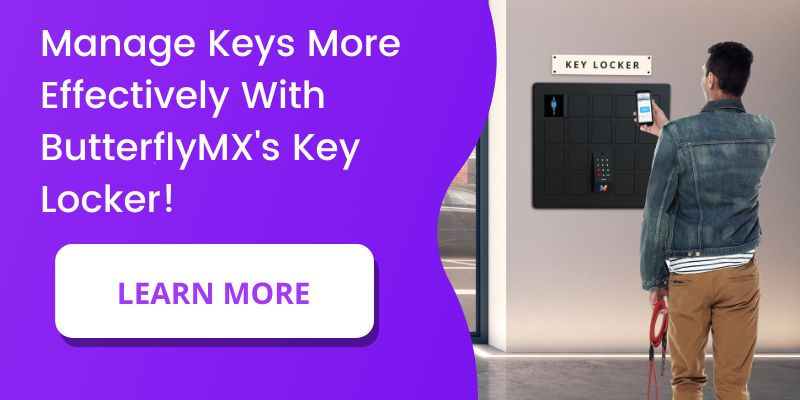 Disclaimer: ButterflyMX provides these blog posts to help our customers and potential customers make the right business decisions for them. Our blog posts are based on the information we have available to us at the time of writing.