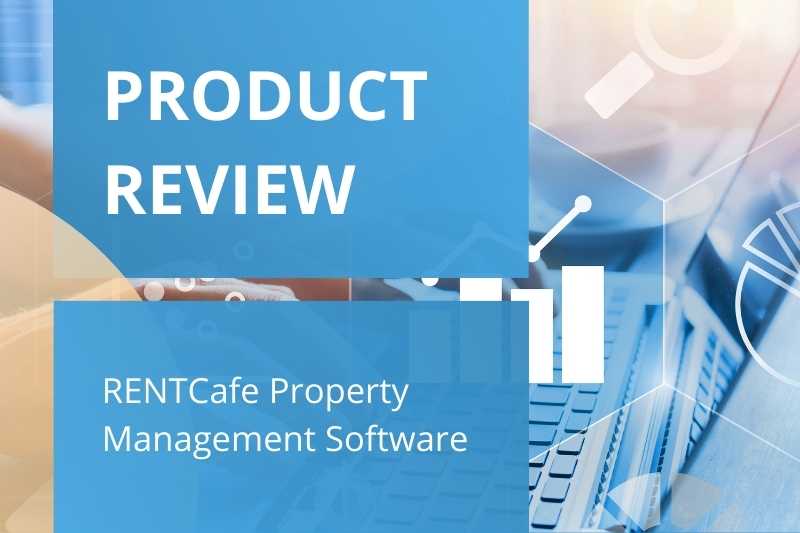 Managing a multifamily building is filled with challenges, frustrations, and tedious admin work. But as a property manager, you can alleviate those burdens by investing in the right property management software. One well-known software provider is RENTCafe.
Owned by real estate staple Yardi, RENTCafe offers a suite of tools designed to help you manage — and market — your property. Read on to learn more about RENTCafe's features, pros and cons, pricing, and alternatives.
Navigate this review:
About RENTCafe
RENTCafe is owned by Yardi, a software company with a full suite of products for both residential and commercial property managers.
RENTCafe is a unique property management software program because it focuses primarily on property marketing. With a robust suite of marketing tools, the software empowers property managers to convert prospects into tenants.
That said, RENTCafe still offers leasing and resident services found in more conventional property management software. Additionally, RENTCafe integrates with other Yardi products, as well as various third-party platforms.
Outside of its property management and marketing software, RENTCafe also serves as an apartment listing site. Prospective residents can view detailed property information, including floorplans, photos, and amenities. They can also contact the property, schedule a tour, or apply for an apartment directly through RENTCafe.
Features
Apartment listings: RENTCafe's most popular feature is its apartment listings. Property managers can post listings in cities across the country, then promote those listings to increase reach. For even better visibility, RENTCafe users also have access to PPC campaigns and other SEO solutions. These additional marketing features ensure that listings reach the right audience.
Website builder: In addition to listing your apartment units through the RENTCafe platform, you can also create a website for your company or property using customizable templates.
Leasing tools: RENTCafe offers tools to assist you throughout the leasing cycle, from application to execution to renewal. These tools expedite the process and reduce administrative work for your staff.
Online chat: RENTCafe's Chat IQ feature makes it easy for property managers to answer questions from prospective tenants at any time, no matter where they are in the leasing process.
Self-guided tours: RENTCafe's software includes a self-guided touring solution, which allows prospective residents to book tours and view vacant units on their own schedules. The software provides all the tools you need to safely offer self-guided tours, including online scheduling and ID verification.
Resident services: In addition to marketing and leasing services, RENTCafe offers tools to help you manage current residents. Through RENTCafe, you can accept rent payments, receive and complete maintenance requests, share community news, and more.
RENTCafe pricing
The cost of RENTCafe isn't listed on the company's website. Property managers interested in RENTCafe's software should contact them directly to get a quote or view a demo.
Pros & cons
Pros:
User friendly: RENTCafe has an intuitive interface that's easy for property managers to navigate. Tools and services are well-organized within the platform. Additionally, the resident portal is easy for tenants to use.
Integrations: If you already use other Yardi products, RENTCafe integrates with them seamlessly. RENTCafe also integrates with third-party providers.
Extensive marketing tools: Marketing is what RENTCafe does best. It offers a robust apartment listing platform and makes digital marketing simple with PPC and SEO tools.
Cost-effective for small firms and portfolios: Many property management and marketing programs are designed for large real estate firms and can be overwhelming for smaller companies. But RENTCafe's streamlined interface offers only the most important tools ideal for small- to mid-size property management companies.
Cons:
Slow customer service: Some users report that RENTCafe has inconsistent customer service. Response times can allegedly be very slow, which makes it difficult to address any problems in real-time.
Lagging interface: Users also report that RENTCafe's interface can be particularly slow at times. The platform is updated frequently, but those updates may cause delays.
Automatic log-outs: RENTCafe automatically logs users out after a short period of inactivity. While this can mitigate some security risks, it may also be inconvenient for those who use the software throughout the day.
Watch how ButterflyMX works:
Should you get RENTCafe?
RENTCafe is a good option for small apartment complexes or mid-size property groups that need an easy way to market their listings. If you're struggling to reach prospective tenants in your area, this platform can be a very effective way to increase visibility. RENTCafe may also be a good option for those who already use Yardi and want a tool that integrates well with it.
However, if you're looking for a more robust property management solution, RENTCafe may not be right for you. It doesn't offer all the reporting and management tools that other competitors offer.
RENTCafe alternatives
RENTCafe is unique in that it focuses specifically on property marketing. However, if you need a solution designed strictly for property management, there are plenty of alternatives to consider.
Alternatives to RENTCafe include:
Yardi Voyager (from RENTCafe's parent company)
Buildium
Before signing up for any property management software program, it's always best to compare your options and find the program that's best for your unique needs. So, request a demo or even a free trial of any software before committing to one.
Summary
RENTCafe's software makes marketing a breeze for property managers. If filling vacancies is your highest priority, RENTCafe offers an effective marketing solution. It's also highly effective for property managers who want to streamline their leasing process and sign leases faster. But if you're looking for a more traditional property management software solution, consider looking elsewhere.
Disclaimer: ButterflyMX provides these blog posts to help our customers and potential customers make the right business decisions for them. Our blog posts are based on the information we have available to us at the time of writing.