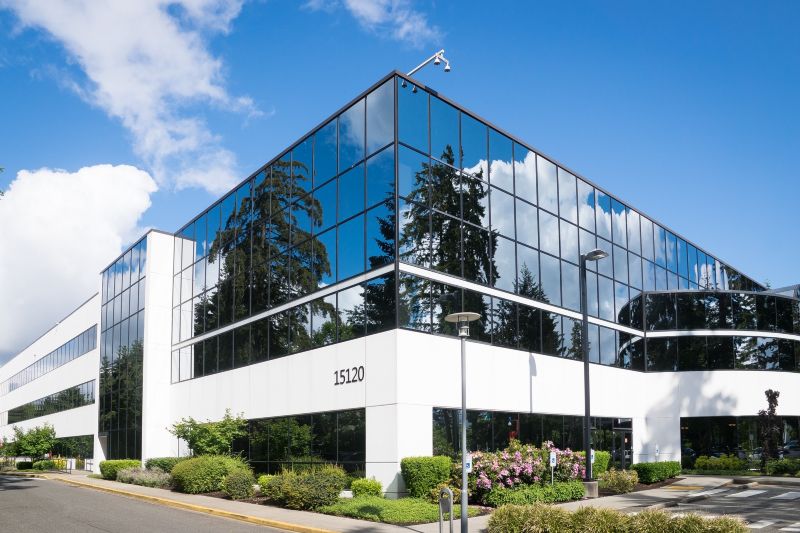 Read this post to learn the best cloud-based access control systems for your office building.
For as long as we've had doors and gates, we've had the need to control who goes in and out of them.
Access control has taken on many different forms since the beginning. Take Buckingham Palace, for example, where for hundreds of years it has existed in the form of stoic guards dressed in bright red jackets adorned with brass buttons and topped with black bearskin hats who protect its entryway — we sometimes wonder if they even blink. And while it's not practical for every office building to have guards on patrol 24/7, it is necessary for every building to have some form of access control system.
Modern office buildings not only have to manage access for their employees but also an onslaught of visitors. Most offices can now expect food deliveries, cleaning people, yoga instructors, and temporary staff to all show up on the same day. And without a modern access control system, trying to manage access for employees (and their visitors) is simply not possible.
Thankfully, cloud-based systems are a great way to solve today's modern access challenges. What's more, when they're paired with a smart intercom system like ButterflyMX, businesses can grant seamless property access to tenants and visitors alike!
What is a Cloud-Based Access Control System?
Cloud-based access control is a technology that enables the remote control and management of doors and gates via a smartphone or another Internet-connected device. The system allows administrators to determine who can (and cannot) open doors into and throughout a building. Access is managed through an online portal and typically granted when the individual holds an authenticated fob, mobile phone, card, or bracelet near a reader that has been installed outside of the door, gate, or elevator they would like to enter.
Cloud-based access control systems differ from on-premise systems because the software — the brains controlling the physical hardware — is hosted in the cloud rather than on a server at the property itself. By hosting the software that determines who has access to certain doors in the cloud, building owners and managers benefit from added convenience, security, and affordability.
Four Benefits of a Cloud-Based Access Control System
There are many reasons to select a cloud-based access control system — below we've highlighted five:
1. Off-site hosting centers
In a cloud-based system, the location where your data is hosted and stored never shuts down. Having a physical server in your building can be expensive, time-consuming, and setting it up is only half the battle.
Like any other computer, it needs to be maintained. This can be as simple as restarting it or as complicated as installing more memory to make it faster. But with a cloud-based system, you get the convenience of knowing that maintenance and upgrades are handled for you. Meaning: you will always be able to manage your access control system from an internet-connected computer or smartphone without worrying about it being down.
2. Data protection and backup
The hosting center where your software is being stored automatically updates and backs up. You'll always have access to current data and you'll never have to worry about your in-house server kicking the bucket, which could cause you to lose valuable data such as the access permissions you've configured for your tenants. Data centers are also equipped with redundancies, ensuring your data is backed up in multiple locations in case a file becomes corrupted and needs to be restored.
3. Cost- and time-effective
Installing and replacing servers and card readers, writing new software, and hiring a skilled person to do it all is expensive. With a cloud-based access control system, you pay one fee — saving you a lot of time and money.
4. Easily customized
Cloud-based access control systems can be easily customized for your business's needs. With traditional systems, when it's time to add or revoke access permissions you need to physically scan a fob or rewire various pieces of hardware. With cloud-based systems, however, it's as simple as logging into an online portal and within a few clicks, you've changed the permissions for a new, current, or terminated employee.
Most importantly, having a cloud-based access control system in place gives you peace of mind, knowing you always have the ability to grant access for certain people and revoke it for others.
Now that you know what cloud-based access control is and why it's important, let's examine some of the best systems currently available.
The Best Cloud-Based Access Control Systems:
ProdataKey
ProdataKey (PDK) is all about "anytime, anywhere, any device" when it comes to managing door access.
Through their cloud-node, control panel, and readers, this system provides you with complete remote management of all of the doors at your property. Management is done through a smartphone or other internet-connected device. And in the event of a power outage, the system's backup batteries allow it to continue working.
PDK also integrates with ButterflyMX's video intercom system which is specifically designed to enable safe and seamless visitor access at commercial properties. This integration ensures that whenever you add, update, or delete tenants within ProdataKey's system, this data is automatically updated within ButterflyMX, saving you the time and hassle of maintaining two databases.
Kisi
Kisi is a great option for businesses of any size or industry, offering flexible solutions to new and existing doors into (and within) your office. Sleek and simple door readers grant tenants property access using their mobile device, fob, or keycard.
What's more, Kisi's open API allows for integrations with other solutions such as your CRM or G-Suite directory, allowing for automatic tenant provisioning. This means that not only will all of your tenants be automatically added to your Kisi system, but also they will be updated in real time when your employee roster is updated.
Brivo
Brivo offers a state-of-the-art door entry system with solutions that fit a variety of needs. Whether you have a large or small business, Brivo can accommodate your access control needs.
This system has multiple platform options to accommodate a single site, enterprise, or multi-building complex. You can remotely manage access and credentialing from a smartphone or other Internet-connected device. Additionally, Brivo offers a full suite of facility safety features including tenant and visitor reporting, personnel control, and mobile usage to get a better understanding of how people are using the system. Brivo also features energy usage monitoring, which keeps track of thermostats and lighting for additional cost-saving opportunities.
Openpath
Openpath is designed to address the access needs of businesses, with a focus on keyless entry. It also takes property security to a higher level with features that aren't typically found in other cloud-based access control systems.
In addition to controlling and managing property access from your smartphone (or another device), Openpath can be integrated into select security systems. So in the event of a fire or break-in, the system will notify your emergency-monitoring provider so emergency services can be dispatched. Lastly, Openpath's system allows you to schedule access to specific zones within a building — enabling zoned access to service providers such as a cleaning person has never been easier.
Do Your Research Before Making a Decision
There are a lot of cloud-based access control systems currently available. While the systems we have suggested are apt to meet the wide-ranging needs of most businesses, this is certainly not an exhaustive list by any means. We recommend that you determine your needs, do your research, and ask a lot of questions — this is the only way to ensure you're getting the right cloud-based access control system for your office.
As you continue your search for ways to enhance your office space, it's important to consider your tenants' working experience. Read our ebook on Tenant Experience if you're seeking to sign top-dollar, multiyear leases with high-profile companies.